Global Opportunity
From Your Own Home Office
Bringing Hope to Everyone's Door
Global Opportunity with Prodigy-5 and FGXPRESS
Do you want to bring positive change into the lives of others?
Do you want to earn supplemental income?
Are you looking for new and exciting work from your home office?
Do you desire a new business opportunity involving affordable investment? Then read on...
What Is Membership?
ForeverGreen has Retail Customers, and it has Members who resell ForeverGreen products. Members also get reduced pricing on ForeverGreen products which they buy for themselves (Member pricing).
ForeverGreen International is a Direct Selling company. DIRECT SELLING is: Sharing your own experience—get paid for something that simple! Instead of a company investing billions on advertising, real people who actually use the product are trained and rewarded for "sharing." This is the operating model of ForeverGreen; which has chosen people to be their distribution channel, rather than traditional advertising.
"Not everyone can sell. But everyone can serve.
Service is greater than salesmanship."
—Ron Williams, Founder of ForeverGreen
Membership is allowed a great flexibility as to what you wish to do, or not do. Briefly, Membership gives you:
The lowest product prices for your personal use.
Opportunity for you to earn income by sharing with others how ForeverGreen products have persoanlly helped you. This becomes...

Earning money for sharing about the products (Retail Customers)
Earning money for sharing about the business opportunity (Enrolling new Members)
Direct Selling Strategies
Membership happens only through another Enroller (another Member). The general public cannot buy ForeverGreen products from the ForeverGreen corporate Web site forevergreen.org but only through a Member's ForeverGreen replicated Web site (which every Member receives from ForeverGreen upon enrolling), such as YourName.fgxpress.com.
There is great flexibility and freedom of options within the ForeverGreen Business Model. Whichever choice you make, these Models are purposely designed by ForeverGreen to afford YOU flexibility, with the greatest benefits and options for your choice.
Here are some Business Models your opportunity can function in:
A medical professional (chiropractor, naturopath doctor, massage therapist, physical therapist, etc.). You can incorporate ForeverGreen products into your practice for patient use, such as applying a PowerStrip™ and offering your patient to buy further PowerStrips™ through your FGX replicated Web site. Or, recommending Prodigy-5 or FrequenSea PRO through your in-office inventory, or to buy through your FGX site.
A health food store owner, and you want to sell ForeverGreen products in your store. This is possible, but you must first contact ForeverGreen International (laws vary according to local jurisdiction). I can quickly consult with you on this issue by emailing me.
An individual can be established as a Member and decide not to build a business. By paying the one-time Member Enrollment Fee ($12 USD) they qualify for Member pricing.
An individual wanting health products for personal use and with opportunity to have additional income.
An individual wanting health products for personal use and wants to develop a thriving business.
ForeverGreen Advantages
Through your own home-business, you can bring:
HEALTH to others,
KINDNESS to your community, and an equal
OPPORTUNITY to everyone in the world.
ForeverGreen stands out as being a true INNOVATOR developing BREAKTHROUGH products and business models.
FIRST to be GLOBAL with products everyone wants
FIRST to offer a flat SHIPPING price anywhere in the world
FIRST to bring these SOLUTIONS to you, so you can create your own home-based business.
Create your own economy by working together with a global community of people. The Network Marketing industry is one of the fastest growing in the world.
The Journey: A Brief History of ForeverGreen
The Envelope Model
You can build your business in more than 200 countries and territories because of ForeverGreen's revolutionary business model. Each product is shipped worldwide for as little as $5.95 USD. ForeverGreen is...
A premier direct sales company based in the USA with high-impact health and wellness products
In business since May 2004
Recently expanded from 18 to 212 countries and territories due to its FGXpress envelope model
A publicly traded company
Combines highly effective products, with state-of-the-art technologies, to make them fit inside of a greeting card!
This global express model encompasses several of ForeverGreen's top-selling products.
THIS BUSINESS MODEL BRINGS THE WORLD TO YOUR DOORSTEP!
2017 ForeverGreen Opportunity Presentation
Velocity Shipping
In 2013, ForeverGreen realized that to become unique in the Network Marketing Industry it involves not just a great Comp Plan, or terrific products, (which they have) but also by changing the distribution method—to create a disruption in how products have been distributed for decades!
ForeverGreen saw that most companies were sending heavy, expensive packages to a limited number of countries. So the creative minds at ForeverGreen conceived an idea of sending unique, life-enhancing products to almost anywhere on earth—efficiently and at low cost!
In 2013, ForeverGreen began testing the FGXpress Envelope Model, enabling growth from 18 countries, to shipping to 212 countries and territories in 2-YEARS! That's a change!!! However, in some countries it was still taking 6 to 8 weeks for products to be delivered. In 2015, it became 3 to 5 weeks—but there was still room for improvement.
In 2017, ForeverGreen has launched Velocity Shipping, where the average shipping time—around the world—is 2 to 5 days!
Velocity = Momentum. Momentum Creates Growth. Velocity Shipping Grows Your Business.
Six Ways to Earn
A Comp Plan is the mechanism a company uses to compensate its members for their results. ForeverGreen designed the Comp Plan to pay significantly more than the average payout in the industry. And it pays WEEKLY!
ForeverGreen Comp Plan
Retail Bonus – Retail Customer Bonus

Earn money for sharing about the products.

Retail Bonus – New Member Bonus

Earn money for sharing about the business opportunity. When you enroll a new Member—Members are distributors, not retail customers—however a new Member pays retail price on their first product purchase, so you earn retail commission on that retail priced purchase from a new Member enrolling under you.

STARTER Bonus

Earn money while learning the duplication system.

Team Bonus

Earn money for supporting your team (paid on your "pay leg," the leg with smaller CV).
12% bonus with 100 QV; now 6% bonus with 50 QV.

Enroller Matching Pool Bonus

Earn money for creating leadership among your team.
You must Rank 3-Star or higher to earn from the Matching Pool Bonus.

Rank Advancement Cash Bonus

Earn money for achieving higher status.
SUPPORT & TRAINING
YOUR OWN FOREVERGREEN WEB SITES (FGXPRESS – FARMERSMARKET)

With an ONLINE SHOP to do business in more than 200 countries 24/7

WEB OFFICE

One stop business management tool with REPORTS, ORGANIZATIONAL CHARTS, RESOURCE CENTER

WEEKLY CALLS, WEBINARS, LEADERS AROUND THE WORLD
EVENTS, RECOGNITION, CONVENTIONS
U OF YOU

WORLD CLASS PERSONAL-DEVELOPMENT TRAINING WITH RON WILLIAMS

SMARTbuilder

MOBILE APP AND DESKTOP, GAME-LIKE TRAINING SYSTEM
Why Join ForeverGreen?
Which company allows you to do business in 212 countries worldwide?
Answer: ForeverGreen.
Because of the Envelop Model it is easier to reach out to those 212 countries.
NO ONE ELSE in the Network Marketing Industry offers this business model!
ForeverGreen is the FIRST in the world to offer such a business model.
ForeverGreen designed the Comp Plan to pay significantly more than the average payout in the industry. And it pays WEEKLY!
TransArmor™ nutrient technology has been designed to work with all ForeverGreen products. This is a paradigm shift. The addition of this technology allows it to stand alone, without ANY credible competitors, exceeding in performance, to all other products.
"Not everyone can sell. But everyone can serve. Service is greater than salesmanship."—Ron Williams, Founder of ForeverGreen
99.9% of the world does not know who ForeverGreen is. That is our platform of opportunity!
TransArmor™ Nutrient Technology:
The Competitive Edge
Prodigy-5 was designed to address the global crisis of malnutrition, by delivering essential nutrients. Major diseases of today require lifestyle changes, as well as additional nutritional tools, to address them. Prodigy-5 works to help correct the underlying problem of malnutrition.
Nutrisorb technology has been designed to work with all ForeverGreen products (Nutrisorb, LLC, founded by Dr. Bala Ambati), and is now available in the new FrequenSea PRO! ForeverGreen products are aimed at supporting the body nutritionally as it faces a myriad of health concerns—that accompany malnutrition. This is a paradigm shift. With the presence of Nutrisorb technology in ForeverGreen products, the conversation completely changes. The addition of this technology allows it to stand alone, without ANY credible competitors, leaving it indisputably the finest and most nutritious product in that space; and exceeds in performance, all other products.
Why is it so important that we attack global malnutrition now? Because for decades now, the face of malnutrition has shifted. Now, it touches the lives of billions.
HUNGER: 795 MILLION
MICRONUTRIENT MALNUTRITION: 2 BILLION
OBESE and OVERWEIGHT: 2.1 BILLION
When we think of malnutrition, like the starving poor, we usually think of others who are affected—not ourselves, or our loved ones. Most of us don't consider that the impact of nutritional disease of malnutrition affects billions—more than half of the global population at this moment, suffers from some form of malnutrition. Now, the face of malnutrition looks just like you…just like me.
For decades, Dr. Saucedo has tracked statistics of malnutrition suffering. He is now shifting the focus of his work from cutting-edge treatment designs for eye disease and cancer, at the university level, to include the design of nutrient technology, now aimed at the alleviation of malnutrition-related disease.
Elements That Have Converged
At This Time In History To Make
Eradication Of Malnutrition Possible
Technology has advanced to the point that we can manufacture TransArmor™ Nutrient Technology (TANT) at a cost that is affordable.
Developers of TANT, Nutrisorb, are aligned with Network Marketing Industry giving access to unrivaled marketing opportunities.
Developers of TANT, Nutrisorb, have exclusive relationship with ForeverGreen, innovators of the global envelope model.
So, for the first time ever in history, we have the necessary alignment of time and technology, as well as market and economic forces, to confront and solve this global malnutrition problem. This vision of Dr. Saucedo of addressing malnutrition, combining with the brilliance of Dr. Ambati in Prodigy-5, came forward to produce a viable tool to dramatically increase nutrient absorption in battling malnutrition and the cause of related diseases.
Malnutrition is beating the life from our global society, ravaging the lives of billions. Now, we face this global menace prepared, even confident, with the sure knowledge and resources, to defeat malnutrition—known to some as hunger, to others as starvation. But it goes far beyond this, and represents most of the world as micronutrient malnutrition. There's global epidemics of obesity associated with this, cardiovascular disease is out of control, and diabetes is out of control.
"We can now bring this assistance to most countries around the earth.
This opportunity stands without compare, and is an honorable goal."
—Dr. Adam Saucedo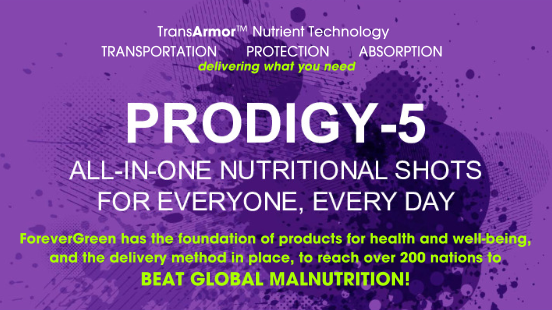 Dr. Saucedo: Prodigy-5 and The Global Envelope Model
How To Get Started
Is this a test? If you've made it this far down this Web page...you've got the fortitude to become an ENTREPRENEUR!...Or the determination to fight for your dream!
I've provided this volume of information so that you can make a well-informed decision. My apologies for the exhaustive reading!
There is a $12 USD one-time membership fee. Anyone who joins ForeverGreen by paying a membership fee and agreeing to the ForeverGreen Policies and Procedures, gains exclusive benefits and responsibilities such as special Member (wholesale) pricing and the opportunity to participate in the ForeverGreen compensation plan.
The size of a Member's business, network, and/or income will directly correspond to the Member's level of effort!
Any personal volume that exceeds 100 QV will count toward your Enrollment Root volume and may help your rank advance.
HOW OFTEN WILL I GET PAID?
Commissions are processed weekly at the end of every 7-day period. Each period begins on Tuesday at 12:00 a.m. U.S. Mountain Time, and ends on Monday at 11:59 p.m. U.S. Mountain Time.
MEMBER DISCOUNT
As a ForeverGreen Member you want to be using the products in order to know how effective they are. As a Member, you receive the Member's discounted price. However, your FIRST PURCHASE is at Retail Cost.
You may want to have an inventory on hand, so you can share product samples to prospects--as Retail Customers, or as potential Members.
New Member Velocity Pack Discounts
So, when you enroll online as a new Member, you'll immediately have opportunity to buy ForeverGreen product. You'll first be presented various Starter Packs to choose from. The Starter Packs ARE engineered at a discounted price for new Members. These Starter Packs provide you a discounted inventory for sharing samples, using yourself, or for personally selling at Retail Price. When you buy a larger Starter Pack, you get a lower pricing per unit.
OUTSIDE U.S.A.: Generally, ForeverGreen product sales in countries other than the U.S.A. are intended for personal use, or samples, and are not intended for resale from your personal inventory; therefore, may be subject to duty and tax by that country's local authorities.
You will notice other product category items in the left-margin of the Shopping Cart. Here you can find the usual ForeverGreen product selections, other than the Starter Packs. (These other items will be at Retail Cost, as your very first Member purchase is to be at Retail Cost.) However, some of the Xpress Combo items here ARE discounted Starter Packs.
Here is additional information on Velocity-Starter Packs.
Make your initial purchase according to your business plans, and according to your financial abilities.
The $12 USD one-time Membership Fee will be automatically added to your initial product purchase as a new Member.
Ready to begin your Membership?
Sign Up Today!
Entrepreneurs Welcome Here...

GREAT! I'm glad you've decided to start your new venture!
If you have any questions,
email me HERE—Jim Christopherson

Simply click the link in the green-bar below to begin your Membership...

DISCLAIMER: The content found here is for informational purposes only, and has not been evaluated by the Food and Drug Administration; therefore is not intended to diagnose, treat, cure or prevent any disease. Always work with a qualified medical professional before making any changes to your diet, nutritional health, prescription drug use, lifestyle, or exercise activities. If you are currently taking medication from a doctor, always discuss possible adverse reactions or inter-reactions between those medications and possible nutritional supplements.
ForeverGreen products are designed to be an important overall part of an individual's DAILY HEALTH LIFESTYLE. ForeverGreen believes in embracing health, not fighting disease. Not all persons have the same experience using ForeverGreen products. This information is provided "as is," and the reader assumes all risks from the use, non-use, or misuse of this information.
Your personal earnings may vary. The size of a Member's business, network, and/or income will directly correspond to the Member's level of effort.
© NetResult Web Marketing
---